1. Observational Results
My short trip to Flagstaff, AZ lasted from November 15 (late night) till November 18 (morning) with a primary focus to make visual and photographic observations of the Leonids. The objective of the visual observations was to accurately determine ZHR (Zenith Hourly Rate) profiles of the Leonids on the night of maximum activity. I did not make upfront arrangements for coordinated simultaneous photographic observations.
I observed from Braeside Observatory (111°44' N, 35°11' N) in Flagstaff, a private observatory owned by my good friend Bob Fried (click here for more details on the preparation of the expedition). On the evening of my arrival at Braeside Observatory, the sky was very clear with a limiting magnitude of about 6.5. I decided not to observe, because of my fatigue due to the long flight from Brussels (over Philadelphia and Phoenix) to Flagstaff.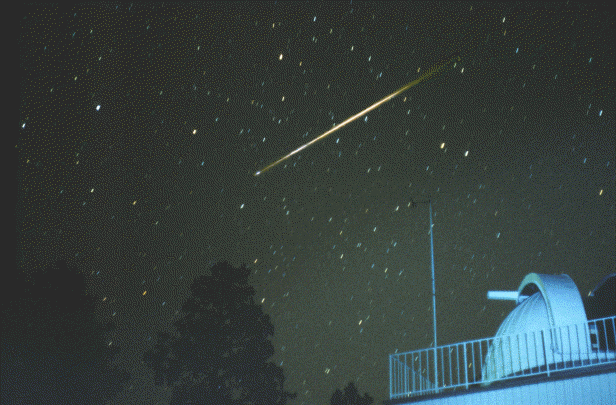 Bright Leonid fireball over Braeside Observatory, Flagstaff. The picture was made on Nov 18, 2001 around
07h58m UT, using a 50-mm f/1.8 lens and Kodak Elite Chrome 400 film (developed at 1600 ASA).
The 2 minute exposure is a composite image with the meteor superimposed from another frame.
Image copyright : Tonny Vanmunster.

The night of November 16/17
The next night (Nov 16/17) was clear again, and was used to determine the best possible observing location, and to test out all equipment. I didn't make any systematic observations that night, but noticed very low Leonid activity in general. I made sure to wake up several times a night, and especially went outside around 3 am (local time), i.e. 10h UT. That was exactly 1 day before the predicted time of maximum activity, and it allowed me to get a good estimate of what the observing conditions (e.g., location of radiant) would be during the next night.
November 17
The morning of November 17 once more showed deep blue Arizona skies, and I expected them to stay like this for at least another night. However, as daytime progressed, high cirrus clouds started to develop and by 5 pm local time thick clouds had covered most of the Flagstaff sky. Needless to say I was very disappointed. Together with Bob Fried, we analyzed weather charts and looked at their evolution over the past hours. A cold front definitely was approaching Flagstaff, so the forecast was looking bad. However, we had the impression that the clouds on weather pictures were dissipating a bit, over the course of the evening. Instead of scheduling a last minute flight from Flagstaff to some undetermined location, using Bob's private airplane, we decided to take the risk and stay at Braeside Observatory.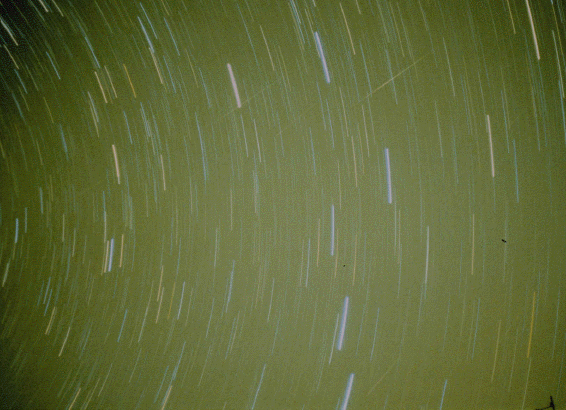 7 meteors are visible on the original frame of the image above, centered on Ursa Major.
The picture was made between 11h04m UT and 11h27m UT on Nov 18, 2001, using
a 50-mm f/1.8 lens and Kodak Elite Chrome 400 film (developed at 1600 ASA).
Image copyright : Tonny Vanmunster.


The night of November 17/18
Maximum activity was forecasted at 3am (Sunday morning Nov 18th). So around 10pm, I planned to sleep for an hour or two, before starting observations. I went to bed under a sky that was covered with clouds for more than 50%. Being too nervous about the weather conditions, I couldn't sleep at all. Around 11 pm, clouds definitely started to dissipate, and about 1 hour later, the sky was covered for 20% only (hiding exactly the Leonid radiant section of the sky).
Bob and I set out all equipment, and started preparations for the observations. We already noticed an above normal Leonid activity, although the radiant was only very low above the horizon at that moment.
07h53m UT (Nov 18, 2001) was the formal start of my visual observations. There was some low clouds, covering about 1/6th of the sky, and the limiting magnitude was 5.5 'only'. The activity level was low enough to not only make meteor counts, but to also write down the magnitudes of the observed meteors. I counted about 42 meteors during this first hour, with an occasional 'burst' of meteors every now and then. On average, the meteors were quite bright, and many were observed with negative magnitudes. At some moments, clouds were seriously hampering observations, and also the limiting magnitude was bad compared to Flagstaff standards.
Around 09h12m UT, activity for the first time noticeably seemed to increase, with about 4 meteors per minute for a short interval. Shortly afterwards, it returned to values similar to the first hour of observing. I'm sure I must have missed quite a number of meteors between 09h12m UT and 10h UT, due to low clouds fields passing by.
Leonid meteor shower activity as seen from Braeside Observatory, Flagstaff, AZ
Plot showing ZHR rates in meteors per hour versus UT, in half hour tick marks.
Observer : Tonny Vanmunster
Around 10h00m UT, I finally started to notice clearly increased activity levels, with at least 5 to 6 Leonid meteors per minute. By that time, however, I realized that I should already be observing the maximum shower activity, considering the predictions of Asher and McNaught (09h55m UT) and Jenniskens (10h09m UT). I was disappointed, as I considered that shower activity was indeed quite good, but not what I had expected when leaving Belgium.
But then, around 10h15m UT, things suddenly changed. The activity now abruptly increased to about 10 meteors per minute, and I had to stop making magnitude estimates. It now became evident that something 'special' was on its way to develop. In addition, also the weather started to cooperate, and all clouds disappeared above Flagstaff. I remembered the prediction of Lyytinen and Van Flandern, giving 10h32m UT as the time of maximum Leonid activity. By that time, ZHR values indeed became very high (see figure above), but the best was yet to come. After 10h30m UT, I started seeing 10 to 15 meteors per minute (note that I manually wrote down my observations, and therefore was even missing a number of meteors). The nice thing about them was that they clearly appeared in clusters : sometimes there was no activity for maybe 5 to 10 seconds, and then all the sudden one could see maybe 5 meteors or so in 2 seconds, truly giving the impression of a 'storm'.
Between 10h43m UT and 10h47m UT, I counted nearly 80 meteors (again : I stopped counting 3 times during that interval to write down observations for about 10 seconds each time). This was top activity, and one of the best astronomy moments in my life. I heard Bob yelling "There they are!", probably remembering his 1966 observations of the big Leonid meteor storm (although the 2001 event definitely was not comparable to 1966). There were many very bright meteors now, leaving lots of bright persistent trails. In addition, I saw at least 2 fireball explosions, lighting up the dome of Braeside Observatory against the dark sky.
By 11h00m UT, the activity started to lower a bit, with values of 10 to 15 meteors per minute. The decline continued afterwards, but certainly was less steep than the rise to maximum. Again noticeable was the 'grouping' or 'clustering' of the meteors. Shortly after 12h00m UT, I decided to stop observations and to finally go inside the observatory control room to warm up again (my first break in over 4 hours). I wrote a quick email report to a number of friends, and then had to leave Flagstaff, heading for Phoenix airport - completely tired but very satisfied.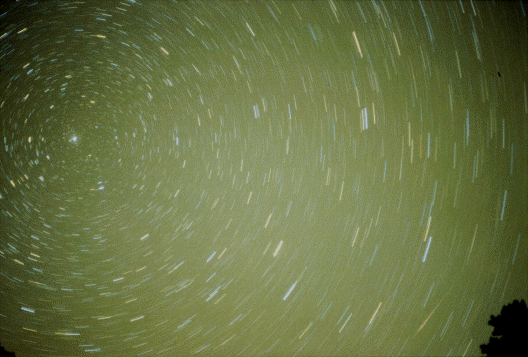 3 meteors are visible on the original frame of the image above, including a faint one 'hitting'
the North Star, and a bright one in the lower right corner.. The picture was made between
10h50m UT and 11h04m UT on Nov 18, 2001, using a 50-mm f/1.8 lens and Kodak Elite
Chrome 400 film (developed at 1600 ASA). Image copyright : Tonny Vanmunster.