August 2005 outbursts of Var79 Peg

Mid August outburst
Gary Poyner reported an outburst of Var79 Peg = 1RXS J215434.4+355023 on Aug 17.069, 2005 at visual mag 14.1 (CVnet-outburst). I started an unfiltered CCD photometry session at CBA Belgium Observatory on Aug 17/18, followed by another session on Aug 18/19. The resulting light curve is presented below.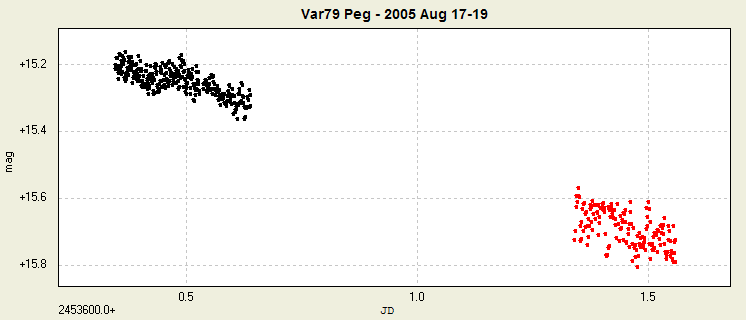 Unfiltered CCD observations of Var79 Peg. 0.35-m f/6.3 telescope with ST7-XME
The variable faded from (unfiltered) mag 15.25 (average) to mag 15.69 over the course of 1 day, and shows no evident periodic modulations, as the above figures illustrate (I tried several period analysis methods in Peranso). In total, I collected nearly 500 CCD observations.
The present outburst most likely is not a superoutburst, and - combined with my observations from Oct 2004 - I suspect that Var79 Peg is probably an UGSS-type dwarf nova.

End of August outburst
Another outburst of Var79 Peg was announced by Rob Jansuzewski on Aug 29.9, 2005 at visual magnitude 14.3 (CVnet-outburst). I decided to spend a few hours on this target, on Aug 30/31 2005, to follow up on my CCD observations earlier this month (see above). The resulting light curve is presented below. Clearly, this was a brighter outburst, but there still is no evidence of superhumps. Modulations with an amplitude of 0.1 mag are present, but very irregular in shape. It adds again more evidence to my assumption that this is likely an UGSS-type dwarf nova.

Unfiltered CCD observations of Var79 Peg. 0.35-m f/6.3 telescope with ST7-XME